TextOut Email
Text Out Email allows you to send SMS messages using any email client such as Outlook.
Using TextOut Email is as easy as sending an email to 04XX111222@xxxdomain.com where 04XX111222 is the mobile number you wish to send to and xxxdomain.com is our TextOut Email domain.
You can send to multiple mobile numbers by adding addtional numbers to the To: field separated by commas. Eg. 04XX111222@xxxdomain.com, 04XX111333@xxxdomain.com, 04XX123456@xxxdomain.com
Using TextOut Email allows you to manage your sms broadcasts through your email program.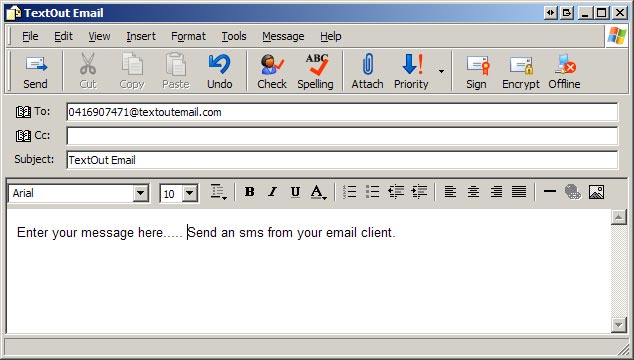 Create an account and get instant access to all our SMS products at no additional costs. With Text Out SMS all you pay for is the SMS, we don't charge you extra fees for using our products.